Tabula Rasa fait beaucoup parler de lui !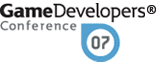 Suite à la Game Developers Conference 2007,le plus grand rassemblement annuel des développeurs professionnels de jeux vidéos, une multitude, et c'est peu dire, d'articles sont sorties sur Tabula Rasa et ça ne semble pas terminé.
Je vous propose ici une liste des articles déjà disponibles, accompagnés de cours extraits, pour que vous puissiez allez en faire la lecture et voir ce que les différents sites et réseaux d'informations sur les jeux vidéos pensent de notre cher Tabula Rasa en attendant l'envoi des invitations pour les bêta-tests qui approchent à grands pas.
GamesSpot - GDC 07: Tabula Rasa Updated Impressions
The game sounds and looks intriguing--the game itself seems to run quite well and uses colorful graphics to show the game's various alien worlds and monstrous enemies. If Garriott and company can accomplish what they've set out to do, Tabula Rasa will offer a highly distinctive sci-fi massively multiplayer experience when it launches later this year.
Kotaku - GDC 07: Tabula Rasa and Richard Garriott
« ... » the game is very pleasing to look at. Plenty of special effects, laser blasts, and explosions combined with exotic locales and unique creatures to make the world of Tabula Rasa quite unique.

I've been looking for a new futuristic MMO since I left Anarchy Online behind a few years back, and Tabula Rasa is looking to fit the bill quite nicely.
The Escapist - GDC 2007: Tabula Rasa - Garriott's Story
And really, the game is exciting. Garriott's riding again, and he's doing a lot of the stuff he did right with the Ultima series.

After seeing it live, I'm definitely keeping an eye trained on it.
Wired - GDC: Oh, How I Long for Tabula Rasa
I really, really want to play Tabula Rasa. I'd heard about it since a few E3s ago, but never reallychecked it out in depth because it's an MMO, and I don't generally dig those because... well, you know all the things that can make an MMO suck, « ... » But after sitting through the demo this afternoon, I simply cannot wait to take a crack at Tabula Rasa.

The game is freakin' gorgeous, and blends RPG and FPS elements quite neatly.
Shacknews - Tabula Rasa First Look
Tabula Rasa is anything but a World of Warcraft clone, and genuinely attempts to offer up a new experience within the rapidly bloating MMO genre.
1UP - GDC 2007: Read about NCSoft's clean slate.
We're very excited about the upcoming beta.
GameZone - Tabula Rasa Preview
From the looks of it, it is gearing up to present players with a sci-fi title that is more than just a typical alien shooter, but rather an evolving and challenging game that will not only entertain but provide many opportunities for players to feel a sense of accomplishment.
IGN - GDC 2007: Tabula Rasa Update
If anything, we're more curious about the game's ability to stand up against some stiff competition in the MMO space in 2007. Any concerns were well masked by assurances that the game will stand on its merit.
Game Almighty - Tabula Rasa preview
The Future of MMO Gaming? Probably. It's definitely fair to say that Tabula Rasa is pretty much unlike anything else we've seen before. From just the short time I got to spend watching this game, it's jumped right to the top of my "most wanted" list.
GameDaily - GDC: Peering into the future with Tabula Rasa
There was plenty more to the presentation, but in that short time, it became clear the Tabula Rasa would be opening up entirely new doors for MMO development.
Games Radar - Tabula Rasa - updated impressions
But stat-loving junkies should note that Tabalu Rasa will be a "die-roll" RPG at heart.
Worth Playing - Preview - 'Tabula Rasa'
Tabula Rasa is, in short, ambitious « ... »
Bonne lecture. ^_^